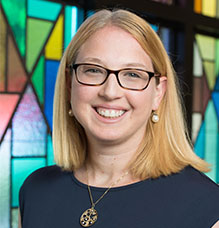 Rabbi Nicole Guzik
Rabbi Nicole Guzik has served as a rabbi at Sinai Temple for twelve years and four years prior as Sinai Temple's rabbinic intern. She focuses on innovative women's programming, young family retention and recruitment, and supervises Beit Bracha, Sinai Temple's mainstreamed religious school for children with special needs. She guided Sinai Temple Sisterhood's inaugural March of the Living trip to Poland in 2017 and in 2019 led a joint Sinai Temple-Sinai Akiba Academy March of the Living journey.
Rabbi Guzik also serves as the Director of the Sinai Temple Israel Center and Nazarian Youth Program. The Israel Center engages the Sinai Temple and Los Angeles community in Israel education and advocacy through speakers, classes, trips, and programs.
This past August, Rabbi Guzik launched the Sinai Temple Mental Health Center to address the mental and emotional health of the Sinai Temple community and beyond.
She is married to Rabbi Erez Sherman. Together they are the proud parents of daughter Annie and sons Zachary and Henry.
READ MORE BY RABBI GUZIK
---