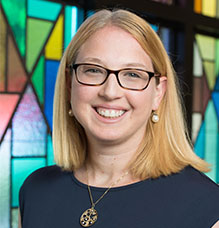 Rabbi Nicole Guzik
Rabbi Nicole Guzik works with the Torah in the Round and Dor Chadash communities and supervises our Caring Community and Beit Bracha, families with children with special needs. She is proud to work with our Sinai Temple Sisterhood and most recently, guided Sinai Temple Sisterhood's inaugural trip to Poland with March of the Living.
Rabbi Guzik also serves as the Director of the Sinai Temple Israel Center. The Israel Center is a programmatic base that engages the Sinai Temple and Los Angeles community in pro-Israel education and awareness through speakers, classes, trips, and programs. Rabbi Guzik is proud to lead the David and Angella Nazarian Youth Leadership Program: a fellowship that engages our teen community in Israel advocacy and leadership training.
In the greater Los Angeles Jewish community, Rabbi Guzik sits on the Executive Committee of the Pacific Southwest Region of the Rabbinical Assembly and Executive Committee of the Board of Rabbis.
She is married to Rabbi Erez Sherman. Together they are the proud parents of daughter Annie and sons Zachary and Henry.
READ MORE BY RABBI GUZIK
---