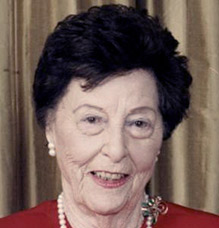 Ruth Ziegler
Of Blessed Memory
Ruth Ziegler passed away on February 4, 2018. She and her husband Allen (z"l) were members of Sinai Temple since 1966. Together they became two of Sinai 's greatest benefactors ever. Ruth stood out for her vision, her humanitarianism, and her pacesetting generosity. A passionate advocate for Jewish cultural and educational organizations here and in Israel, she provided critical support for causes large and small.
The only child of a Reform rabbi, Mrs. Ziegler grew up in St. Joseph, Missouri, and graduated from the University of Southern California, where she met Allen Ziegler, a USC law school student. They married in 1941 and, after serving in the Navy in the South Pacific, Allen returned home to enter his family's business, now known as Westco Products Inc., a manufacturer and distributor of bakery ingredients. During his lifetime, Allen's enormous generosity advanced the efforts of numerous Jewish institutions.
Mrs. Ziegler's profound concern for the welfare of others, her devotion to Jewish causes, and her intelligent approach to giving have become a model for philanthropists in Los Angeles and across the country. For more than a decade, she generously supported the Center for Jewish Education at the University of Haifa. The Center is dedicated to the study, critique and advancement of Jewish, Israeli and democratic identity in Israel and abroad. Among the other beneficiaries of her support are the American Jewish University, Sinai Temple, City of Hope, the Jewish Federation of Greater Los Angeles, USC Hillel, and the Venice Family Clinic.